intrusion & anomaly
detection
Find unknown and malicious activities while avoiding alert storms & false positives. Focus on what matters by monitoring your OT assets to detect anomalous behaviour and misuse in your environment.
Intrusion & Anomaly Detection
As operational technology (OT) becomes more pervasive across critical infrastructure sectors such as energy, manufacturing, mining, and transportation, industrial operations are increasingly at risk of cyber attacks. These attacks can lead to operational disruptions, equipment damage, and even physical harm to workers. As such, ensuring the security of OT systems is a critical priority for industrial organizations.
One of the key strategies for securing OT systems is the use of intrusion detection and anomaly detection technologies. These tools provide real-time visibility into the network and device activity, allowing security teams to detect and respond to threats quickly.
Intrusion detection systems (IDS) monitor network traffic and devices for signs of unauthorized access or malicious activity. They can detect known attack patterns, such as malware infections and unauthorised access attempts. IDS can also be configured to monitor for specific types of activity, such as changes to critical files or system configurations, that may indicate a compromise.
Anomaly detection systems (ADS), on the other hand, use machine learning algorithms to identify patterns of behavior that are outside of the norm. This can include deviations from expected traffic patterns, unusual system or user behavior, or other anomalies that may indicate a threat. ADS can be particularly useful for detecting previously unknown or "zero-day" attacks that may not be detected by traditional signature-based IDS.
The combination of IDS and ADS provides a comprehensive approach to OT security, allowing organizations to detect a wide range of threats in real-time. With improved operational visibility, security teams can respond quickly to security incidents, minimizing the impact of attacks and reducing the risk of damage to critical infrastructure.
As the Internet of Things (IoT) continues to expand, the importance of OT and IoT security solutions will only grow. OT systems are increasingly connected to the internet and other networks, creating new avenues for attack. As such, industrial cybersecurity solutions must evolve to address the unique challenges of securing OT environments.
As cyber-attacks evolve, industrial network security requires unparalleled visibility and intelligence covering all threats for comprehensive protection. Effective industrial cybersecurity starts with knowing what needs to be secured. A continuous threat detection solution should be able to offer discovery capabilities to provide comprehensive visibility via a highly detailed, centralised inventory of all OT and IoT as well as IT assets.
With differing organisational responsibilities and agendas, you need a consistent security enforcement mechanism. These increasing operational demands call for a renewed focus on dedicated anomaly and intrusion detection to provide a deeper level of security and visibility for the whole enterprise.
Intrusion and anomaly detection in industrial networks refers to the process of identifying unauthorized access or any unusual behavior that could potentially harm the network or its components. This is important in industrial environments, where network security and stability are critical to the smooth operation of processes and equipment.
The main methods used for intrusion and anomaly detection in industrial networks include:
Signature-based detection: This method uses a database of known threats and compares network traffic to detect any matches.
Anomaly-based detection: This method uses machine learning algorithms to learn the normal behavior of the network and identifies any deviations as anomalies.
Behavior-based detection: This method analyzes the behavior of network devices and users to detect any suspicious activities.
Honeypot-based detection: This method involves setting up a decoy system to lure attackers and gather information about their techniques and tactics.
It's important to note that no single method is foolproof, so a combination of these methods is often used to provide a more comprehensive security solution. Additionally, continuous monitoring and updating of the system is crucial to keep up with the evolving threat landscape.
Purpose-Built Monitoring for OT Environments
Anomaly detection purpose-built for Operational Technology (OT) environments refers to the use of specialized tools and techniques designed specifically to monitor and detect any unusual or suspicious activities in these environments.
OT environments typically include industrial control systems (ICS) such as Supervisory Control and Data Acquisition (SCADA) systems, Distributed Control Systems (DCS), and Programmable Logic Controllers (PLCs). These systems are often critical to the safe and efficient operation of critical infrastructure such as power plants, water treatment facilities, and manufacturing plants.
Overall, the use of intrusion detection and anomaly detection technologies is a critical component of a comprehensive OT security strategy. By providing real-time visibility into network and device activity, these tools allow organizations to detect and respond to threats quickly, reducing the risk of operational disruptions and physical harm to workers. As industrial operations continue to rely on OT systems, improved cybersecurity solutions will be essential to ensuring the safety and security of critical infrastructure.
An anomaly detection solution automatically compares each asset in your industrial environment to an extensive database of insecure protocols, known configurations, substandard security practices, and other vulnerabilities tracked by its vendor, as well as to the latest CVE data from various National Vulnerability Database sources. As a result, users can more effectively identify, prioritise, and remediate vulnerabilities in industrial networks.
One of the clearest indicators of potentially threatening activity in your industrial environment is communication between an industrial asset and an external malicious IP address. Our portfolio's Network Policy Management capability makes it easy to alert on such communications and then automatically define and enforce policies to prevent future violations, thereby eliminating this type of attack vector.
Anomaly detection in OT environments requires a unique set of features and capabilities that are different from those required for Information Technology (IT) environments. This includes the ability to:
Analyze real-time data from a variety of sources, including PLCs, DCS, and other industrial devices.
Detect anomalies in industrial protocols such as Modbus, DNP3, and Profinet.
Integrate with other security systems, such as firewalls, intrusion detection systems (IDS), and security information and event management (SIEM) systems.
Provide actionable alerts and notifications in real-time to ensure rapid response to any potential threats.
Purpose-built anomaly detection solutions for OT environments are essential to ensuring the security and stability of these critical systems. They can help detect potential threats before they can cause harm, allowing organizations to respond quickly and effectively to any security incidents.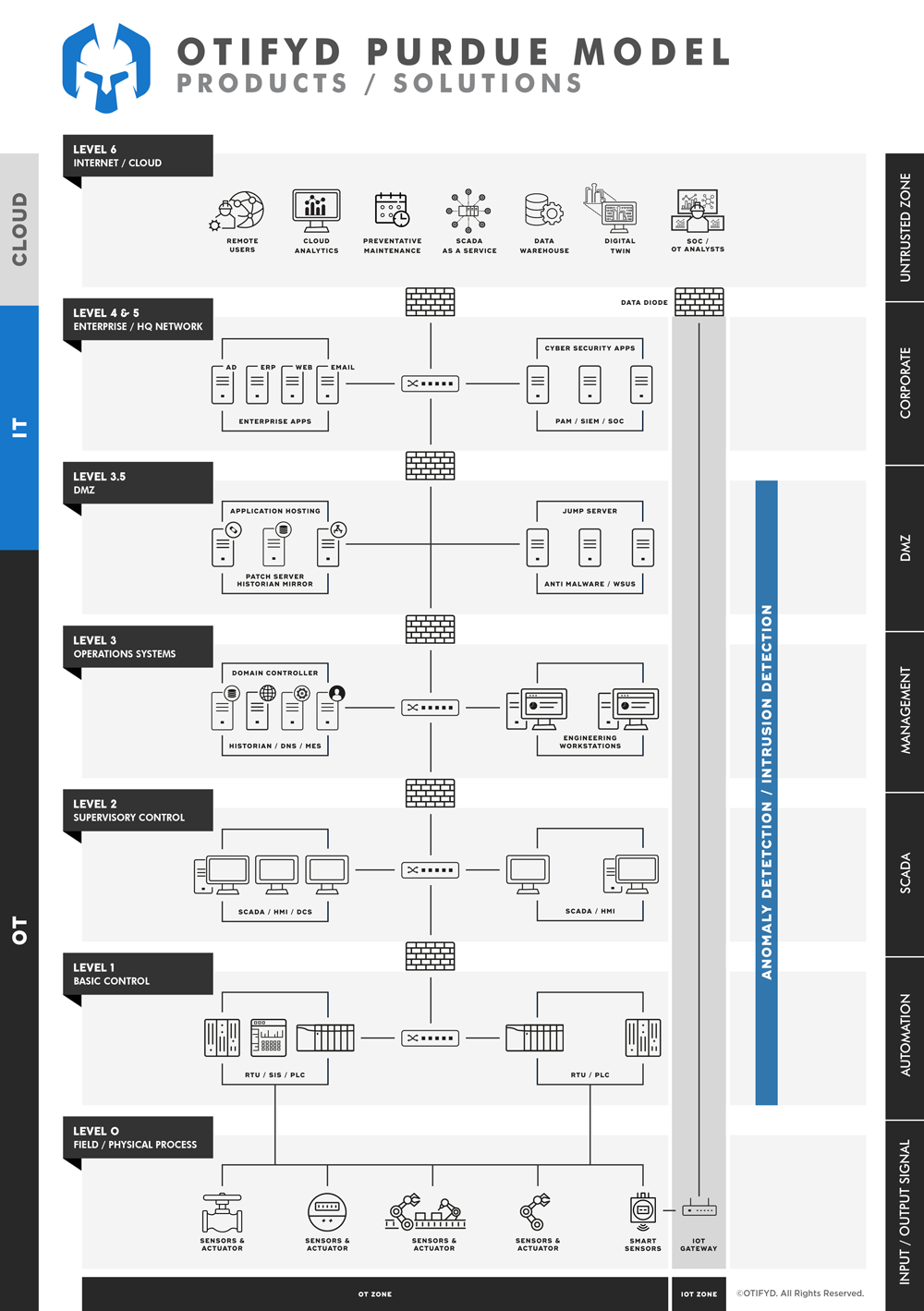 Creating an accurate OT asset inventory, and keeping it current can be difficult and extremely time-consuming. Not only do industrial networks contain a large number of devices from multiple vendors, but assets can also get added and changed frequently. These complex environments typically contain OT and IoT security vulnerabilities you're not even aware of.
An accurate, centralised asset inventory is crucial for effective cybersecurity and operational monitoring.
Industrial networks contain thousands of OT and IoT devices from a variety of vendors. Unfortunately, most of those devices aren't designed for the level of security required in an IIoT-connected world. Many ICS devices are in fact insecure by design – lacking authentication, encryption, and other security standards that typically apply to IT applications and systems. This leaves you wondering – which devices on your network are vulnerable and in need of special protection and which ones require firmware updates or other actions to close the door on cyber risks.
Risk Assessment should be your first step to securing your OT environment. Risk assessment can identify risks and enable OT security stakeholders to understand the current security baseline. Acknowledging the current status of the plant is fundamental and is the starting point of your security journey.
Risks come from many different directions and categories, so a risk assessment that only focuses on high-level business processes might fail to identify risks due to flaws in technical implementations. Insufficiently defined security leadership/governance in the boardroom is a risk, but so is a poorly configured firewall. Therefore, it is essential to have a scope that is sufficiently broad and incorporates different parts of the organisation. Furthermore, a combination of a paper review with an onsite, technical assessment are vital components for a comprehensive risk assessment.