Gain an accurate understanding of your risk exposure and determine controls to effectively reduce it.
OT Risk Assessment Services
Operational Technology (OT) systems are the backbone of modern industry, responsible for controlling and monitoring critical processes. However, these systems are increasingly being targeted by cyber criminals, leading to an urgent need for OT risk management to identify and mitigate potential vulnerabilities. This is achieved through risk assessment processes.
OTIFYD offers comprehensive IEC 62443 compliance risk assessment services that accurately identify cyber security risks for your OT environment. Our risk assessment services include:
Identification of assets that makeup the OT environment under consideration;
Identification and partitioning identified assets into security zones and conduits;
Business Impact Assessment (BIA) to determine critical OT assets;
Identification and analysis of threat sources/actors and applicable scenarios;

Identification and evaluation of current (as-is) controls;

Identification and evaluation of gaps and vulnerabilities;

Identification and evaluation of additional mitigating controls;
Risk rating, prioritisation and remedial recommendations;

Formalised assessment report.
Our assessments are "outcome-focused" which means any remedial recommendations proposed are aimed at providing tangible risk reduction. This approach helps organisations justify OT cyber security improvements and the associated costs by being armed with better information and understanding of the "What, Why and How?"
Finally, our assessments are conducted according to industry best practices and standards/frameworks such as ISO/IEC 62443, ISO/IEC 27001, NIST and ISF but can also be tailored to your specific needs
Why Conduct an OT Risk Assessment?
At a high level, a "cyber" risk assessment builds a structured understanding of risks in your OT environment, and the potential impact they could have on your organisation if realised through both malicious and non-malicious means.
The assessment process is outcome-focused and derives a "risk rating" per worst-case threat scenario (also referred to as "Top-Event", or "Boom Event"). The assessment considers each threat scenario under each of the following situations:
No mitigating controls (inherent risk rating);
With current (as-is) mitigating controls (residual risk rating);
With additional mitigating controls (target risk rating).
Through detailed discovery and analysis, an informed evaluation is made to determine the effectiveness of existing controls for each threat scenario. The evaluation may determine that existing controls sufficiently reduce the risk to an acceptable level or that the risk presented is acceptable and requires no additional controls or action. Conversely, it may highlight vulnerabilities (i.e. gaps) where enhancements or additional controls are required to bring the risk into organisational tolerance.
The assessment process also factors in "risk vs benefits vs cost and complexity" which enables the pragmatic prioritisation of remedial efforts. This in turn allows the correct focus on items that provide the most risk reduction both tactically (short-term mitigations commonly referred to as "low-hanging fruit") and strategically (medium to long-term mitigations that require more effort to plan, design and implement).
Risk Ratings are commonly derived using a 5 x 5 grid format known as a "Risk Assessment Matrix" (RAM). The RAM provides a simple and effective way to present a holistic view of the cyber risks for all team members and key stakeholders. "Risk Tolerance" is the degree of risk or uncertainty that is acceptable to an organisation and varies greatly across industries. Many organisations derive their own RAMs that are tuned against applicable consequence categories and likelihood scales based on historical occurrences.
A high-level summary of key steps that make up our risk assessment process is described and visualised below:
01: Discover: Identify Assets
Identify and catalogue all assets that make up the OT environment under consideration. Categories OT assets based on criticality to the organisation's business operations (e.g. High, Medium & Low).
02: Discover: Identify Threats
Identify and prioritise threat scenarios that result in high-consequence events for the organisation. Consider all applicable real-world cyber scenarios seen across industries for completeness.
03: Analyse: Threats & Controls
Conduct an evaluation of existing (as-is) controls' effectiveness for each threat scenario. Agree on risk rating for each threat scenario based on organisational impact and likelihood.
04: Analyse: Additional Controls
Consider which additional controls can provide tangible risk reduction for each threat scenario. The controls must be realistic. Agree on an updated risk rating possible with additional remedial controls.
05: Analyse: Prioritise Risk
Prioritise risks determining which warrants immediate action, where to invest time and resources, and which risks can be addressed later. Prioritisation is based on the highest risk rating in descending order.
06: Formalise: Create Report
Assessment documented within a formal report. The report includes an executive summary, description of the current situation, risk exposure to the organisation, findings, observations and recommendations.
07: Formalise: Readback
A high-level feedback session to provide a general overview of the assessment outcome to executive-level stakeholders, plan next steps and conclude the engagement.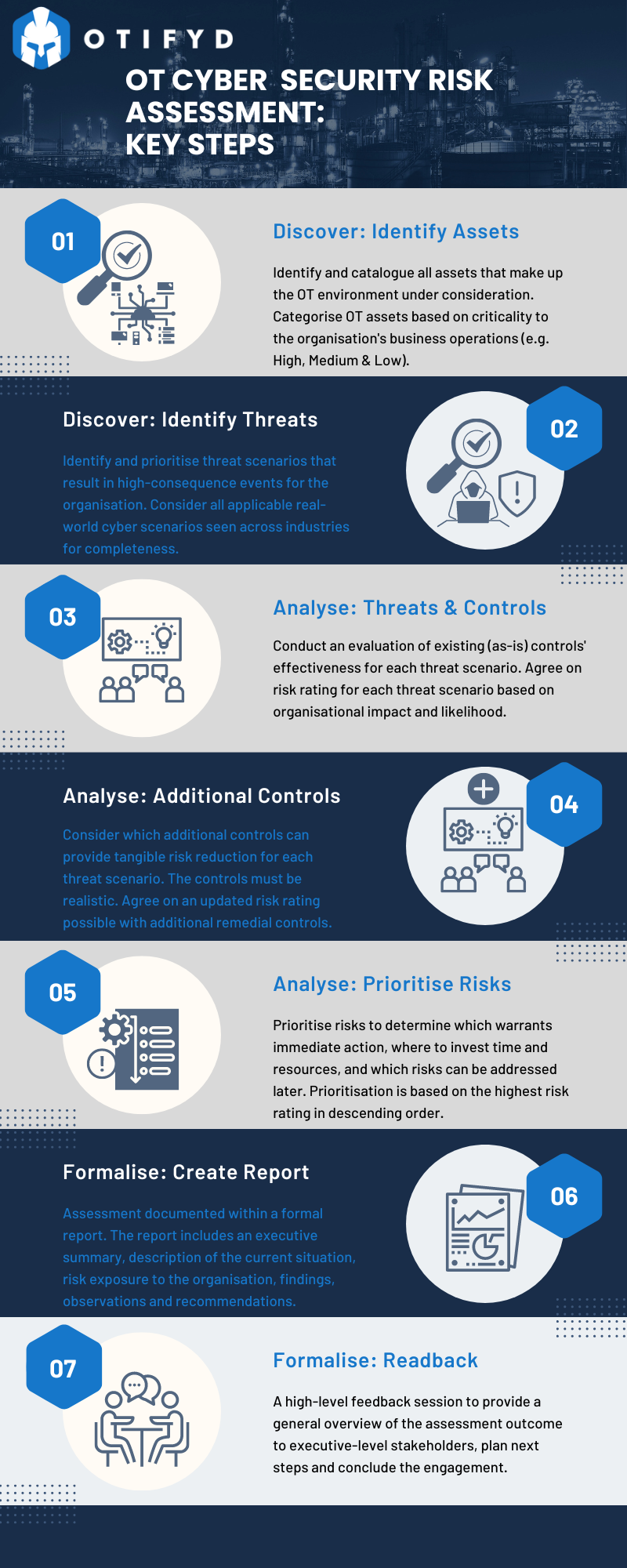 Why is an OT Specific Risk Assessment Necessary?
Traditional IT information security models prioritise Confidentiality, then Integrity and lastly Availability (commonly known as the "CIA Triad"), whereas OT cyber security models prioritise Availability, then Integrity and lastly Confidentiality (commonly known as the "AIC Triad").
This is because the assets and systems that make up an OT environment (e.g. manufacturing plant, upstream oil asset etc) rely heavily on being available and their integrity dependable for both process control and safeguarding. In some cases, the loss of availability or system integrity could jeopardise the safety of the workforce, consumers, physical assets and the environment. Depending on the type and length of availability loss, this can result in economic, ecological, and life-threatening situations. Examples of availability attacks include the 2021 Colonial Pipeline attack, the 2019 Springhill Memorial Hospital ransomware attack, and the 2015 Sandworm attacks on Ukrainian critical infrastructure.
These differences between OT vs IT environments should be considered to correctly assess risks and propose appropriate countermeasures, hence why an OT-specific risk assessment is necessary.
Key Benefits of Conducting an OT Risk Assessment
Understand and benchmark your current risk exposure and the potential consequences of cyber attacks.
Identifies gaps covering People, Processes and Technology which aids prioritise high-risk areas for remediation and improvement.

Provides supporting information to make informed decisions in relation to cyber security investment.

Provides compliance evidence of cyber risk management to regulatory authorities.
Deliverables from an OT Risk Assessment
As part of this service offering, OTIFYD delivers a formalised report that includes:
Assessment methodology;
Executive summary;
Description of the current situation, risk exposure and potential consequences to the organisation;
Assessment findings and observations;
Remediation recommendations with associated priorities.
Additionally, the following items will also be provided:
High-level presentation for executive-level stakeholders;
Any supporting materials produced during the assessment (e.g. risk assessment analysis worksheets etc).